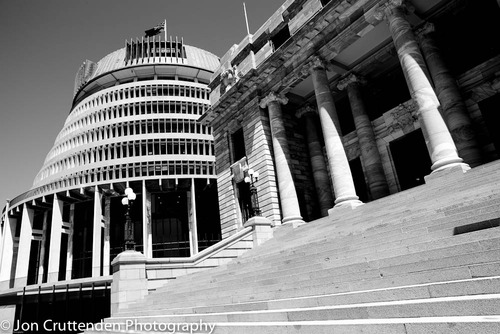 I'm currently completing a detailed Two-Part Post analysing Opinion poll trends over the last few years. Specifically, Part One will take a close look at the disparities between
(1) Poll support for each party in the 18-month run-up to the last two Elections and (2) the proportion of the party vote they actually received at the subsequent Election (with a focus on explaining why both National and the Right Bloc fell so heavily. In the process, I'll analyse the various arguments put forward to explain the trend, in particular taking issue with two theses advocated by the Right).
Part Two will build on that analysis by providing an overview of polling trends over the last 18 months and then applying the lessons from 2008 and 2011 (ie from Part One) in order to get to grips with where we are now in early-mid July 2014.
Both are currently in draft form. Half-way through each (also part-way through a more detailed follow-up to the brief analysis of Preferred PM figures in my
Follow the Leader
Post below).
For now, though, here are the results from every Poll of 2014, January - June:
(and, as you can see, I still haven't learnt how to produce properly-constructed tables on blogger. So it's my usual low-tech, free-hand approach)
2014 Opinion Poll Results
(Note:
Due to rounding, the L+G figure may sometimes be one point above or below the combined Labour and Green figures. If, for example, Labour were on 31.6% in a particular poll and the Greens on 10.7%, they would be rounded up to 32% and 11% respectively. Combined, that would equal 43%. And yet, 31.6 + 10.7 = 42.3%. So, the actual L+G figure would, in this case, be rounded down to 42

%)
------------------------------------------------------------------------
Lab
Green
L
+
G
Nat
NZF
-----------------------------------------------------------------------
January
Roy Morgan
Mid January
.................34%...........13%............46%............44%...........4%
3 News Reid Research
Late January
................34%...........12%............46%.............45%...........6%
Roy Morgan
Late January
................33%...........11%............44%.............47%...........5%
----------------------------------------------------------------------
February

Lab

Green

L

+

G

Nat

NZF
Fairfax-Ipsos
Early February
............32%...........10%............42%..............49%...........4%
Roy Morgan
Early February
............30%............12%...........42%...............48%..........6%
One News Colmar-Brunton
Mid February
..............34%.............8%.............42%...............51%...........3%
Roy Morgan
Late February
.............31%.............11%............41%...............49%...........5%
------------------------------------------------------------------------
March

Lab

Green

L

+

G

Nat

NZF
Herald

-DigiPoll
Early March
...............30%..............13%............43%................51%..............4%
Roy Morgan
Early March
...............32%..............14%.............46%.................46%.............4%
One News Colmar-Brunton
Late March
................31%...............11%.............42%.................47%.............7%
3 News Reid Research
Late March
................31%................11%............42%..................46%............5%
Roy Morgan
Late March
................32%................13%.............45%..................43%.............6%
------------------------------------------------------------------------------
April

Lab

Green

L

+

G

Nat

NZF
Roy Morgan
Early April
................29%.................12%..............40%...................49%..............6%
Roy Morgan
Late April
..................31%.................15%...............46%..................43%..............6%
-------------------------------------------------------------------------------
May

Lab

Green

L

+

G

Nat

NZF
Fairfax-Ipsos
Early May
.................30%....................13%...............42%..................48%...........4%
Roy Morgan
Mid May
...................31%....................14%................44%.................46%...........6%
One News Colmar-Brunton
Mid May
....................30%....................11%...............41%..................51%.............5%
3 News Reid Research
Mid May
....................30%.....................10%................40%...............50%.............6%
Roy Morgan
Late May
...................29%.......................9%.................38%...............53%.............5%
-------------------------------------------------------------------------------
June

Lab

Green

L

+

G

Nat

NZF
Roy Morgan
Early June
...................28%....................12%................40%..............50%............4%
Herald-DigiPoll
Early June
...................31%.....................11%................41%..............50%............4%
Fairfax-Ipsos
Mid June
......................23%.....................12%................35%..............57%............3%
3 News Reid Research
Late June
.....................27%.....................13%..................40%.............50%.............4%
One News Colmar-Brunton
Late June
.....................29%.....................12%...................41%..............50%............4%
Roy Morgan
Late June
.....................28%......................12%..................40%..............48%............6%
--------------------------------------------------------------------------------------
July
Lab
Green

L
+
G
Nat
NZF
Roy
Morgan
Early July
......................24%....................15%...................39%..............51%.............6%
Fairfax-Ipsos
Early July
......................25%....................12%....................37%..............55%..............3%
Herald-DigiPoll
Mid July
.........................27%....................10%....................36%...............55%..............5%
3 News Reid Research
Mid July
.........................27%....................12%....................39%...............49%..............4%
One News Colmar-Brunton
Mid July
.........................28%.....................10%....................38%...............52%..............4%
Roy Morgan
Late July
.........................30%.....................12%....................42%...............46%..............5%
------------------------------------------------------------------------------------
August

Lab

Green

L

+

G

Nat

NZF
Fairfax-Ipsos
Early August
.....................23%...................11%...................34%.................55%.............3%
3 News Reid Research
Early August
.....................29%...................13%...................42%..................48%............5%
One News Colmar-Brunton
Early August
.....................26%....................11%..................37%..................50%.............5%
Roy Morgan
Early August
.....................28%....................12%..................39%..................48%.............7%
Herald-DigiPoll
Mid August
........................25%....................14%..................39%..................50%.............4%
3 News Reid Research
Late August
........................26%....................14%..................40%..................45%.............6%
Herald-DigiPoll
Late August
........................24%....................11%..................36%..................51%.............5%
Fairfax-Ipsos
Late August
........................26%....................12%..................38%...................51%............4%
One News Colmar-Brunton
Late August
........................28%....................12%...................40%...................48%............6%
Roy Morgan
Late August
.........................26%...................16%....................42%..................45%............6%
3 News Reid Research
Late August
.........................26%...................13%....................39%..................46%............6%
-----------------------------------------------------------------------------------------
September
Fairfax-Ipsos
Early September
...................24%...................13%....................37%..................54%...........4%
Herald-DigiPoll
Early September
...................24%...................11%....................35%..................50%...........6%
One News Colmar-Brunton
Early September
...................26%...................11%....................37%..................50%...........7%
3 News Reid Research
Early September
...................26%....................13%...................39%..................47%...........6%
One News Colmar-Brunton
Early September
...................25%....................14%...................39%..................46%............7%
Herald-DigiPoll
Early September
...................25%....................12%....................36%..................49%...........8%